This weekend, as it is my mum's birthday next week, I took her to Champneys Day Spa in Guildford for her birthday present! While I decided not to have a treatment (I'll wait until summer), my mum opted for an express pedicure as it is coming up for summer.
We were greeted very quickly and both offered a drink of either herbal tea (I had a lovely cup of green and jasmine tea) or water and were seated in the waiting area with plenty of magazines to read. We were then taken over to the manicure/pedicure area, where I was able to sit down and be with my mum while she had her treatment. There was a vast number or different shades of nail polish to choose from, with mum choosing a red shade called cherry.
The treatment itself looked very enjoyable and luxurious and the therapist was very professional yet friendly. After her treatment had finished, you are given the option to buy a nail polish of the exact shade that had been used in your treatment so touch-ups would be easy. I thought the service at Champneys was excellent and I will definitely return at some point.
We then went on to lunch at Loch Fyne, where they have an everyday set lunch menu, with two courses for only £9.95! Although I am not a major sea food lover, I thought the food and quality of service was outstanding and very good value for money. For starter I had Thai fish cakes and king prawn tagliatelle which were both presented and tasted lovely. Like Champneys, I will return again!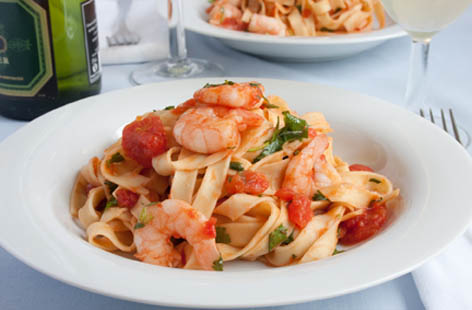 I hope that if any of you visit Guildford, you will give both Champneys and Loch Fyne a try!
Express pedicure - £25
Nail polish - £5
2 course meal - £9.95
Photos are not mine