Well what a season it has been for MIC. Louise and Spencer broke up, Lucy and Spencer are dating, Louise and Andy are dating, Jamie has a girlfriend (by the way he acts you'd think otherwise), they won a BAFTA and as always there has been plenty of drama filling the empty gap between 10-11pm on our Monday nights.
So what really has happened in the award winning show? To sum how the cast members felt about what happened in the series, yesterday night Rick Edwards presented the End of Season Party, or as many of the cast members and their fans (such as myself) call pardy (with a "d" of course).
All viewers were keen to find out what has happened to the cast members since they left our screens, and I, like many other viewers, weren't entirely surprised to find out that Spencer had (yet again) cheated on current (now ex) girlfriend Lucy. Unlike many MIC fans, I have a soft spot for Lucy as I admire her for speaking her mind and I felt genuinely sorry for her as she appeared to be rather upset on-screen.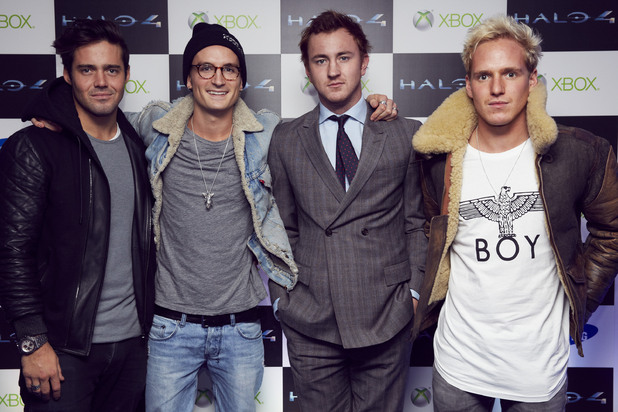 Spencer, Proudlock, Francis and Jamie (left to right)
Moving on to the next relationship - Louise and Andy. Many viewers, cast members and Andy himself weren't exactly happy to find out that Louise had spent the night at a "friends" house (reportedly One Directions Niall Horan) in the last episode of the series. Yet when Rick Edwards were interviewing the couple, things seemed to be cleared between them, but myself and Lucy pointed out that it did seem that Louise appeared to be lying in episode 10. But I'm sure the drama itself will unfold.

The cast at the BAFTA's
Compared to other end of season pardies (sorry I cannot stop myself), I was rather disappointed by the one screened on E4 last night. Perhaps it was the slightly awkward award ceremony or "Spoons" as Rick Edwards named it, or maybe there were less interviews with the cast than I would have liked. I was also disappointed that there was no mention of my favourite (and most fashionable) cast member Millie Mackintosh leaving to spend more time with future husband Stephen Manderson (better known by his stage name Professor Green) as she, until this series, has played a major part in much of the show's drama and storylines.

Binky, Cheska, Millie and Rosie (left to right)
Many viewers (I know for myself this to be true) will miss MIC very much, but don't worry, Binky reassured us via Twitter that there will be a new series very soon!

The end of season party can be watched on 4od until next Monday
Images are not my own