Next week I will be undertaking a week's work experience for a property PR company based in Guildford called The House Group. I am really looking forward to the experience, but one thing I am concerned about is the dress code - smart casual.
As many of you will know, it's always very difficult to get the smart-casual balance right. When is something too smart or when is it on the less professional casual side? As a general rule, I always prefer to be underdressed rather than over dressed, as I'm sure that like me many of you will have experienced the very uncomfortable situation when you feel far too overdressed for an event (for me, it my maternal Grandparents 50th anniversary party in a pub) and you feel very self conscious the whole time, which ends up ruining your day. But for work, or in my case a work placement, is it better to be overdressed than underdressed? Nothing could be worse for an employer than an employee turning up in an un-ironed, stained, casual outfit but nothing could be worse for an employee feeling very overdressed and out of place. But as everyone who knows me will know, I am very organised so have already planned my weeks outfits out (in my head) and dependent on the weather, hopefully I have got the right balance (tomorrow will tell).
The perfect smart-casual balance
For me, the best smart, casual balance will usually involve a blazer, dark coloured trousers or smart well-fitting jeans (stick with black or burgundy for jeans) or a skirt (appropriate length of course) and either a chiffon shirt or a smart plain t-shirt. Shoes are usually a bit trickier, especially if you are starting a new job (as you will usually not know what heel height to go for) so I would always stick with flats (ballet pumps, slippers or loafers) for the first day and be a bit more adventurous with heels as you get to know your role. Luckily for me, as I work in Kurt Geiger/Nine West, I am used to spending my weekends in heels, so I am fairly used to wearing them standing and walking for long periods of time.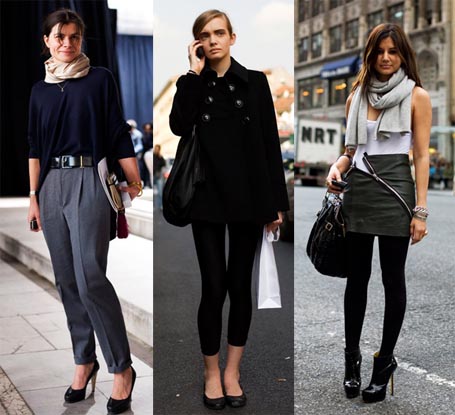 Regarding hair and make-up, less is more! Of course you want to give off the best first impression but being caked in make-up probably won't be any better than turning up wearing none! With hair, stick with what you're used to, whether this be straight and loose, an up-do or curled.
But the most important thing to remember is to feel comfortable in what you are wearing!
At the end of the week I will post what I wore in the week and see what you all think. Have a good week!
Photos are not my own.